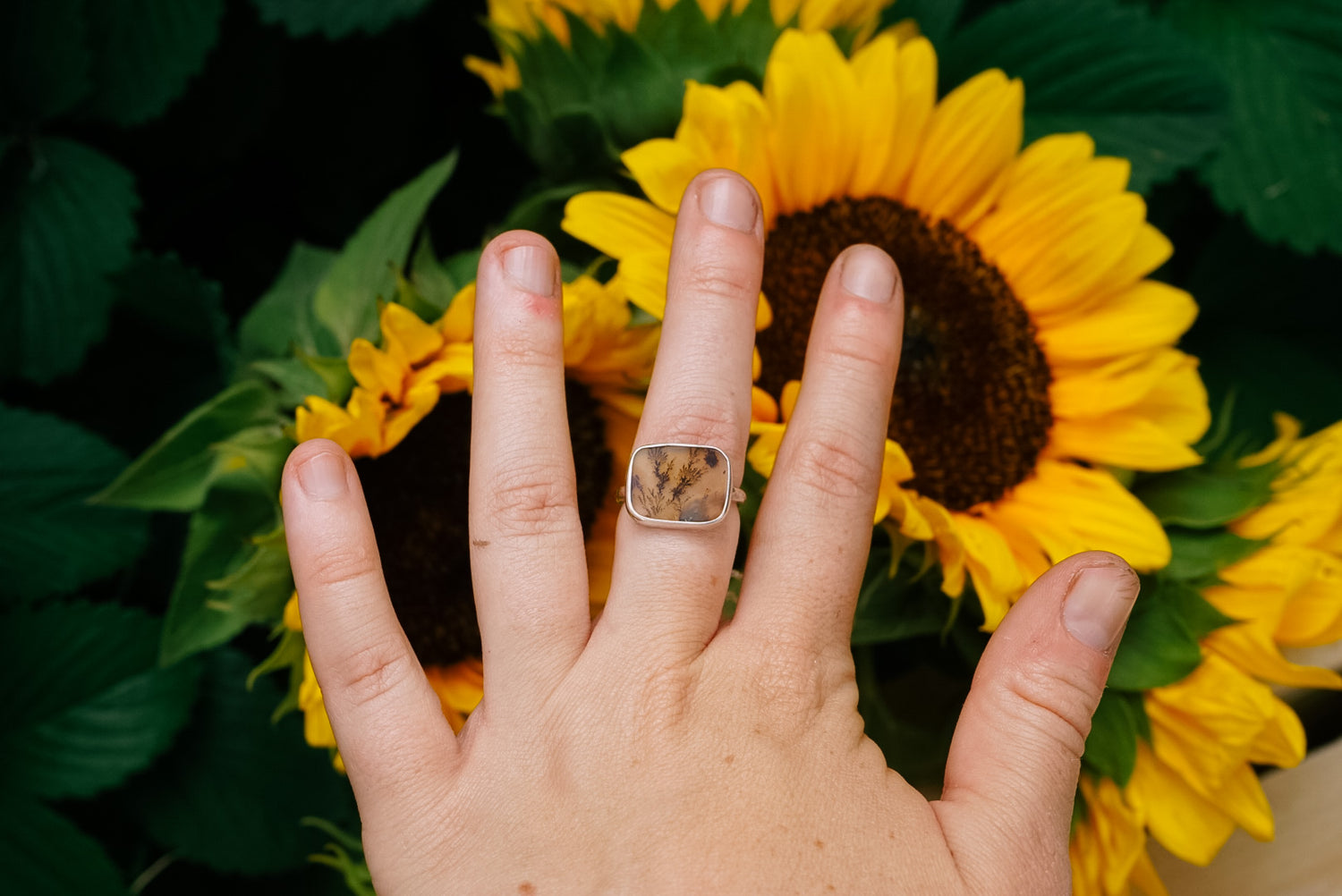 "I love it (Dendritic Opal Ring)- I look at it all the time when I'm wearing it. I get tons of compliments on it, too! I love that it's hand made and crafted with care by women / a woman owned small business. I would totally recommend the jewelry to friends and I already have!!!"
-Lindsay
"Megan and Santi are exceptional at their craft! Every piece in the shop is made with great care, passion, and skill. They care so deeply for their customers and every curated piece that hits the shop tells a story. From the packaging, stamping and notes to the jewelry itself. Every detail is beautiful."
-Casey 
"I feel so good when I wear my studs. Powerful, edgy, they are my essence. They're my new favorite piece and they go with everything. The stones are spectacular and they lay is just - chefs kiss-. They almost look like they glow and the setting is so delicate and perfect."-Riley
"I have loved every purchase that I have made from Crooked Trails!! Every piece is a made with high quality silver and stones that you can take on any adventure! I highly recommend visiting their online store. I can't wait to purchase more from Megan and Santi."
-Mechelle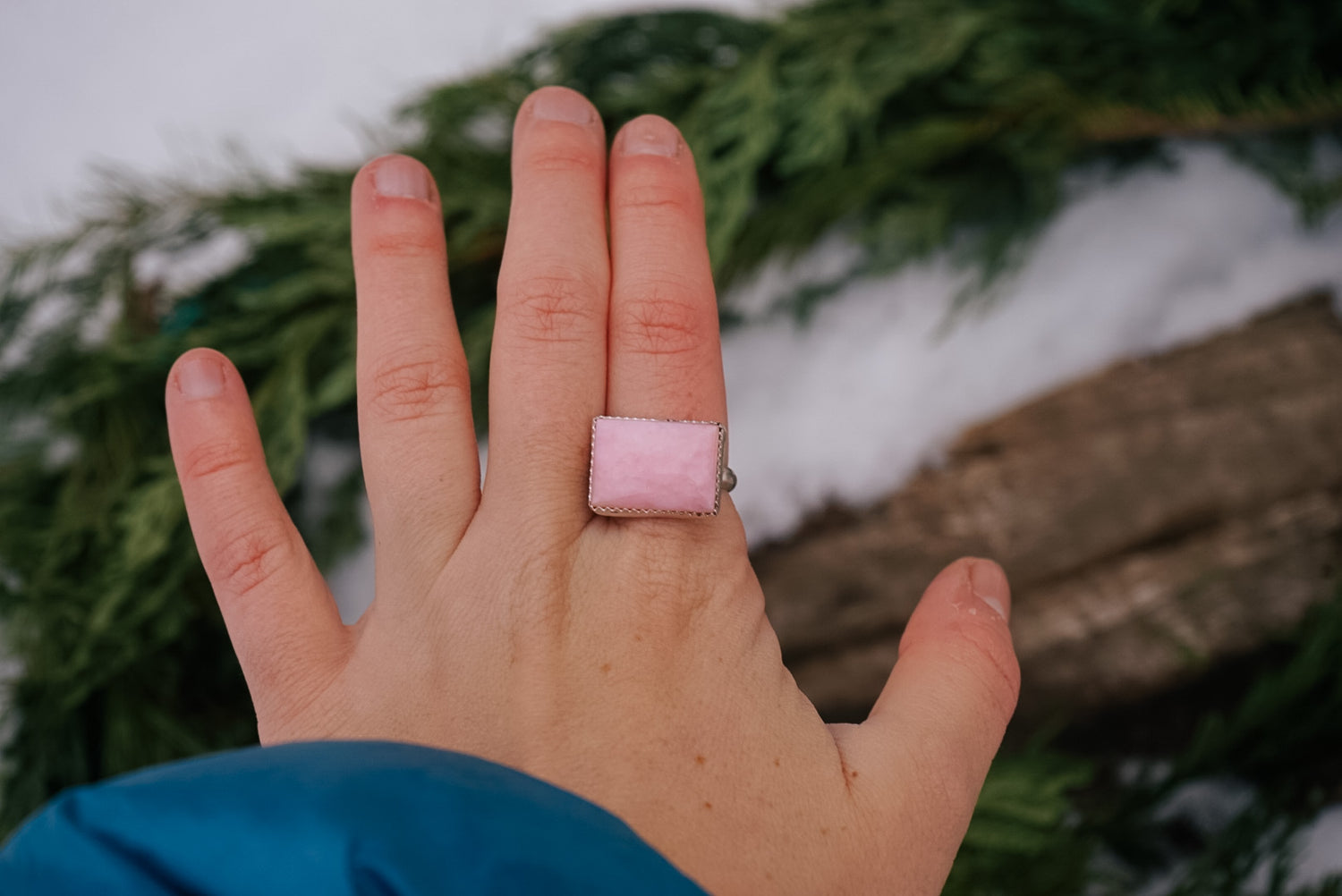 "I feel more feminine and confident when wearing CSS jewelry. Inspired by the love of travel and exploration, I also feel like a free-spirit, trying to find her way in this world. I've been complimented many times on my rings over the past year wherever I go and love telling people, "My friend from college and her partner make these!" I love the story behind the jewelry and I love supporting small businesses, especially when I know part of the business duo ." -Hannah
"I love the jewelry because it allows me to feel confident in various aspects of life. My favorite time to wear the pieces is when I'm doing press conferences for work because I know that the people who wear this jewelry are confident badasses and it helps give me that added confidence. I also wear them on hikes, to a coffee shop, or even grocery shopping - I love wearing art and being able to show it off in various facets of my life. I would always recommend the jewelry to a friend - I've even bought a pair of earrings as a gift for a friend I thought would love them."
-Miranda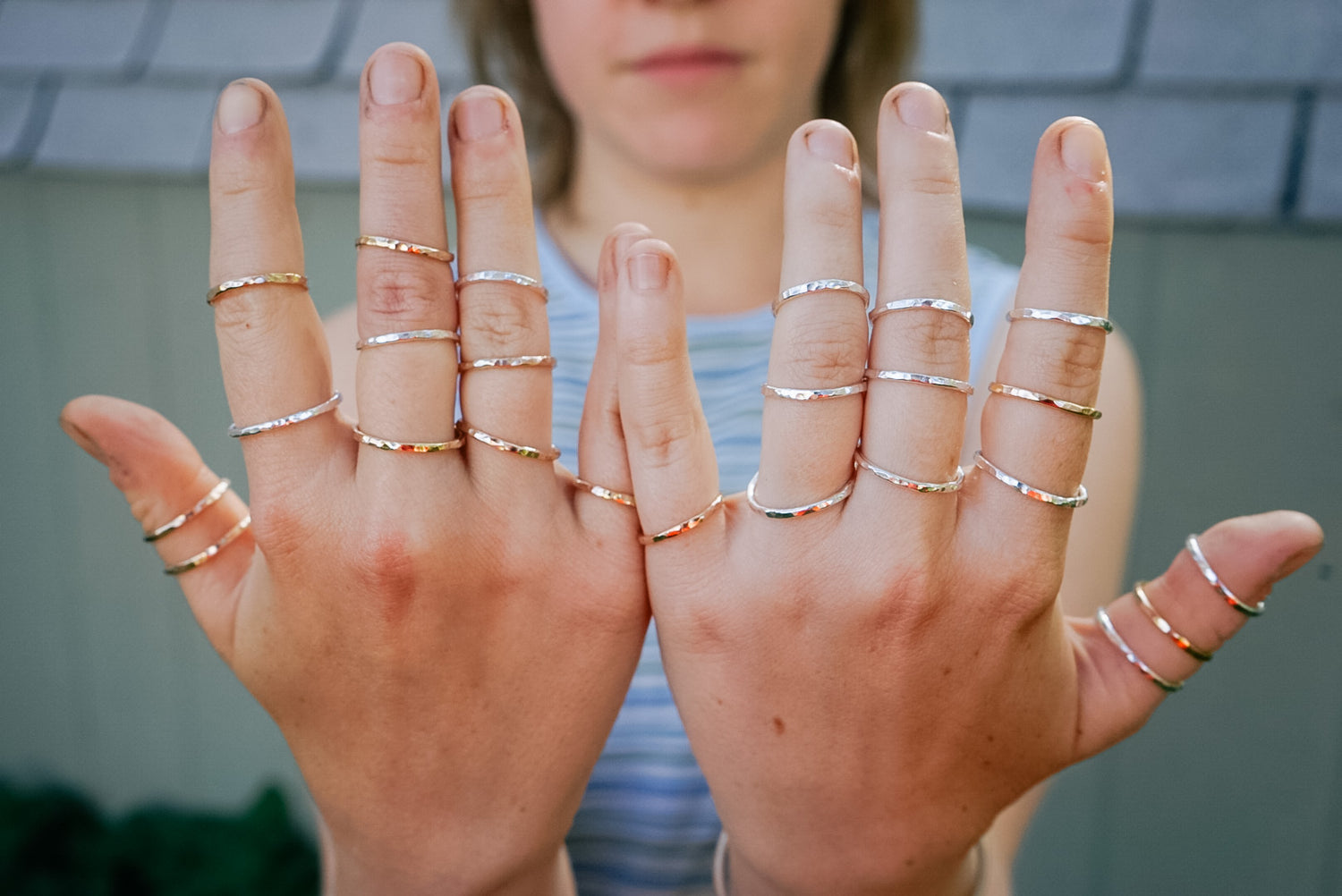 "I absolutely adore my stacker rings. They are low profile enough to wear every day and make me feel so pretty. You can tell they are made with care. Thank you!"
-Mandy
"I just got back home from a trip to the mountains......and I wore the first pair of earrings I bought from you for the trip. I knew they were the perfect accessory, between not worrying about losing them and also giving me the confidence for the trails. Sometimes I feel imposter syndrome- like I don't belong in the hiking/outdoorsy community, but your jewelry serves as a reminder that I'm badass and can do anything if I put my mind to it."
-Miranda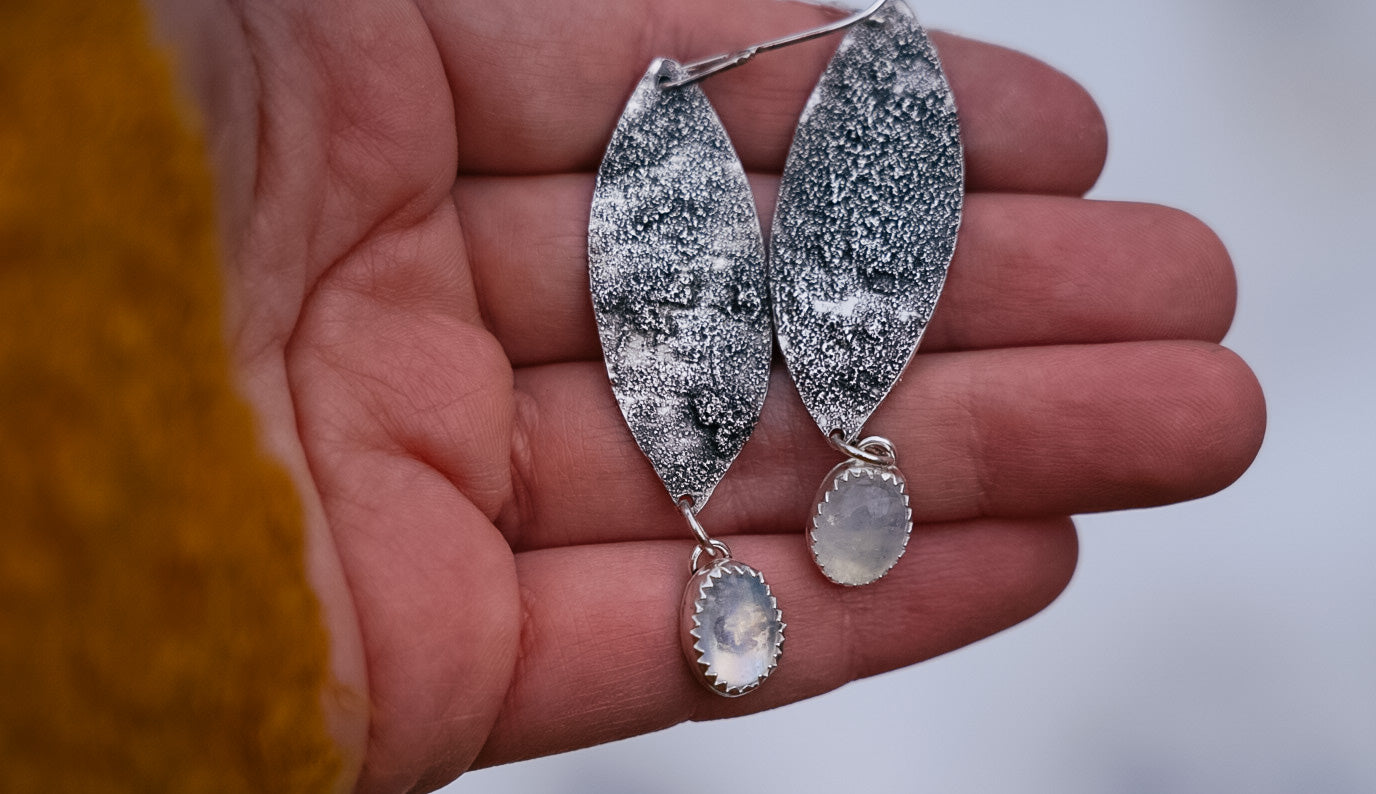 "I love my new moonflower earrings! They are gorgeous, intricate, and so well made. They make me feel both powerful and feminine."
-Liz
"When I wear my jewelry from Crooked Trails I feel powerful and beautiful!! I even work my arches earrings playing grass volleyball and they stayed put and I looked cute serving it up." - Alexis
"Megan, you have created such stunning reminders of the love that my fiancée and I share. I cannot thank you enough for wedding rings. Sarah and I have long been fans of your work, but these exceeded expectations in all regards. They are comfortable, perfectly sized, and so very beautiful." -Tom & Sarah
"When I wear my arches I feel "put together", even to run errands. They are lightweight and comfortable. Shipping was fast and they came nicely packaged."-Terry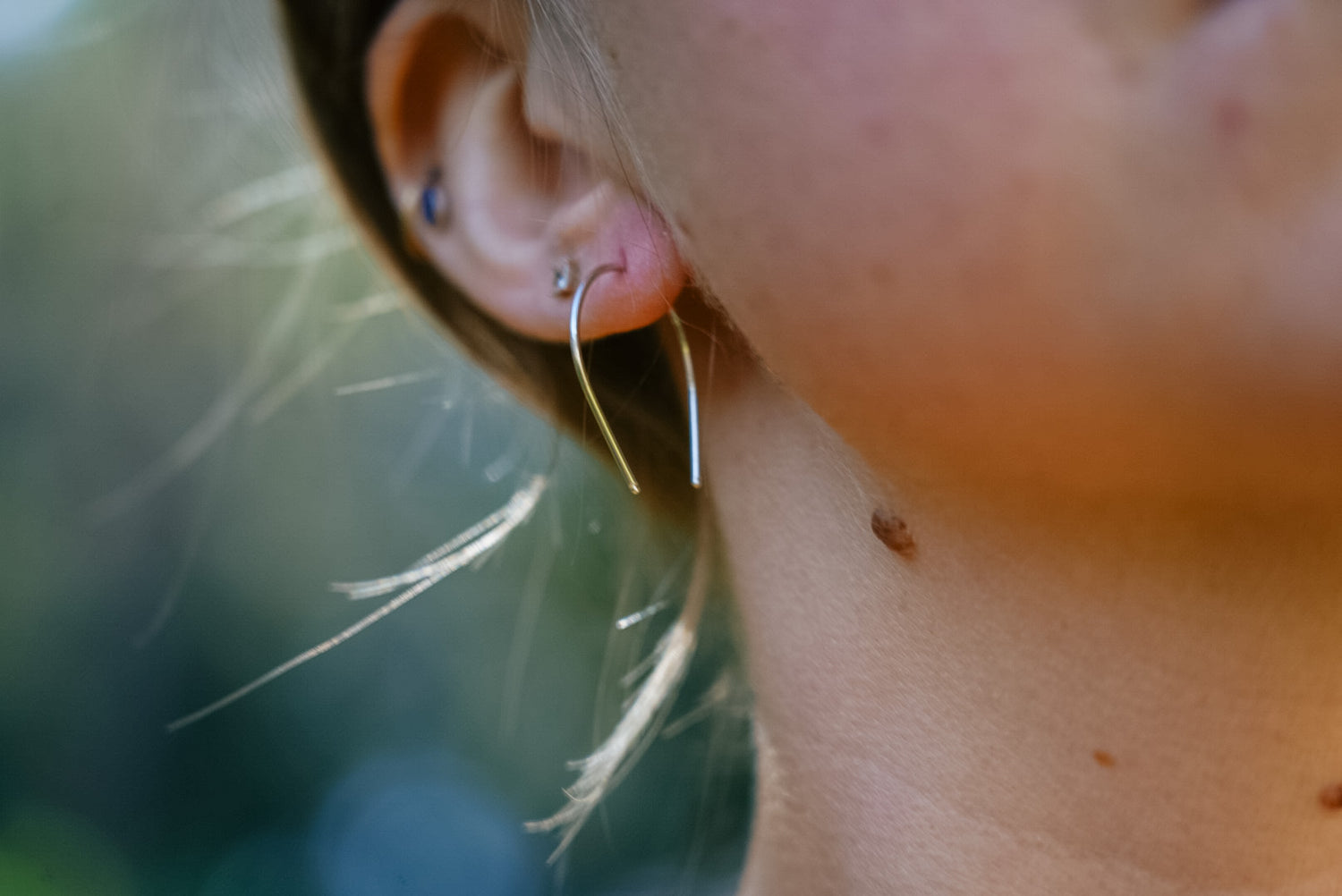 "When I wear the Arches earrings, I feel like I can be active or go out and look cute. They are the perfect size for feeling barely there while still looking pretty."-Melissa
"When I wear the arches earrings I feel really cool! They are super easy to dress up or down and the simple design is so versatile. They're a fun and interesting detail that can adorn any look!"-Adrianna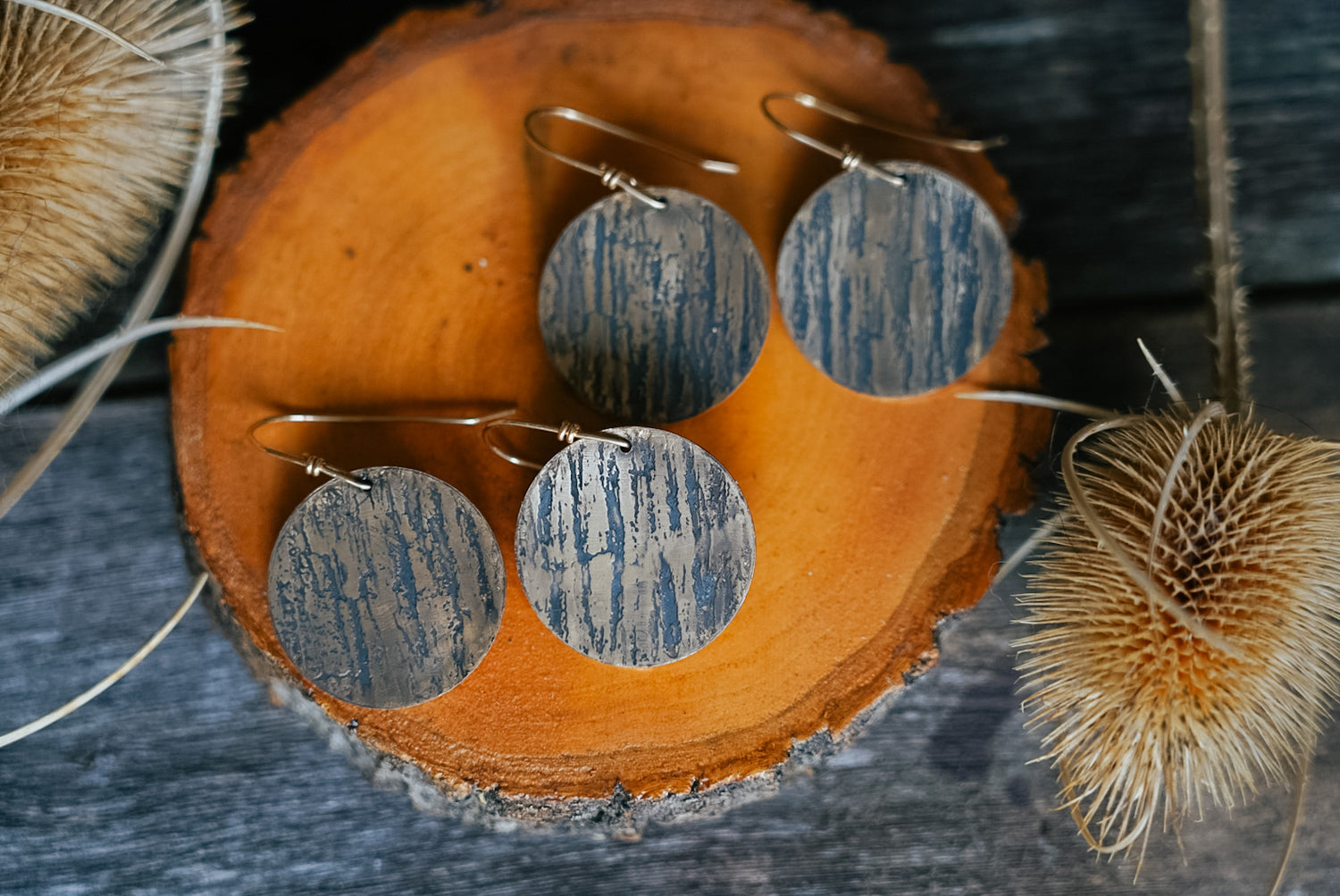 "When I see my dear friend wearing the birch earrings, (they were a gift), I feel such gratefulness for those who put the time and energy into creating these beautiful pieces of art. A handmade gift is always so special to give and I feel like Crooked Trails Silver always has exactly what I'm looking for."-Abby
"I feel pretty unique knowing where the jewelry comes from and also part of a community because the metal smith is a thru hiker!"-Becca
"I love my jewelry from you! Well worth the investment- and honestly, one of the highest quality pieces that I own that was not from a fancy high end jewelry store or from my grandmother." -Lindsay